News
The Centre for Advanced Robotics @ Queen Mary (ARQ) wins QMUL Engagement and Impact Award
2 July 2021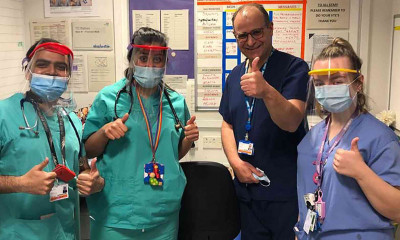 Staff at Royal London Dental Hospital wearing visors prepared by the team.
A team of engineers and clinicians from EECS, SEMS and Royal London Dental Hospital won a QMUL Engagement and Impact Award. The team was awarded the Local Impact Award for their efforts to provide hospital staff with urgently needed personal protective equipment (PPE) during the COVID-19 crisis.
Under the leadership of Dr Ildar Farkhatdinov and Prof Kaspar Althoefer, members of the Centre for Advanced Robotics @ Queen Mary (ARQ) and the Blizzard Institute developed visors urgently needed by frontline NHS staff at main London hospitals. In collaborations with clinicians from the Royal London Dental Hospital, Prof Shakeel Shahdad and Ahmed Din, ARQ took on the mammoth task of fabricating visor frames using the 3D printing facilities available within ARQ and members' own 3D printers. Having made a great start using all the 3D printers available within the team, the team managed to provide hospital staff with the needed visors in very short time. Later, the visors were produced using injection moulding to be able to keep up with the continued demand for this type of protection.

Volunteers who contributed to the effort, some of them by running their 3D printers day and night, include Joshua Brown (PhD student, EECS), Ildar Farkhatdinov (EECS), Ko Ho Huen (EECS), Faisal AlJaber (PhD student, SEMS), Sami Deiri (3rd year robotics student, SEMS), Alberto Caenazzo (PhD student, SEMS), Kaspar Althoefer (EECS/SEMS), John Connelly (Reader in Bioengineering, Blizard Institute), Oscar Pundel (PhD Student, Blizard Institute), Hristina Cvetanovska (Barts Health NHS Trust). The work was financlially supported by the QMUL IAA COVID-19 Rapid Response Impact Acceleration Fund.