News
This is Engineering Day: Interview with Professor Hazel Screen
4 November 2020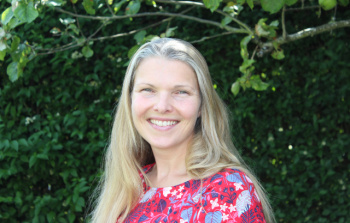 Professor Hazel Screen
Professor Hazel Screen is a Professor of Biomedical Engineering and was recently appointed Head of the School of Engineering and Materials Science at Queen Mary University of London. Here she talks about her research, new role and what being an engineer means to her.

I've worked at Queen Mary for quite a long time now, joining back in 1999 for my PhD. During my time as an undergraduate I was always interested in biology, but back then there weren't too many options to study bioengineering so I opted for mechanical engineering instead. My PhD allowed me to explore my interest in biology, looking into the mechanics of cells and tissues. Being an engineer is more than just about what you study, I think it enables you to see and do things in a different way. Whilst moving into bioengineering meant I've had to learn more biology, to me the fundamentals don't change. My work as a bioengineer is all about understanding biological problems and developing and testing solutions to resolve them.

My research focuses on predictive in vitro models, which are engineered systems that recapitulate the functions of the organs or tissues within the body. The idea is that you can use these miniaturised living systems, or Organs-on-Chips, to understand healthy and diseased tissues, and even test new treatments. These models will help us to ask the right questions in a simple environment, in ways we can't with the tools we have available now. I'm currently Director of the UK Organ-on-a-Chip Technologies Network and Co-Director of the Queen Mary- Emulate Organs-on-Chips Centre, which helps to provide researchers across the UK with access to this innovative technology.   

I use these approaches to investigate tissues, such as tendons, which need to withstand high mechanical loads in the body. For these tissues predictive in vitro models are really useful to understand the intricacies of how and why these tissues can become damaged, and ways to prevent this happening. By looking at the ways a tissue is supposed to work when it is healthy, we can also identify how small changes in the structure, such as those that occur with age, can make injury more likely and look to prevent or treat these specifically.

One of the best things about Queen Mary is the collegiate atmosphere. I'm lucky to work with friends and I really feel the environment we've created for staff and students in our bioengineering labs is sociable and supportive - and this is something I'm hoping to bring to my new role as Head of the School of Engineering and Materials Science. I want staff and students to feel like they are part of a community, and belong to something special that they're excited to be part of. 

As Head of School, I'm currently championing a review of our undergraduate and postgraduate programmes, to ensure they focus on practical activities and case studies, and use design, build and test approaches, to bring engineering concepts to life. We'll still continue to teach fundamental engineering principles such as fluid mechanics, design, materials and mathematics, but also look at how to apply these basic principles in real-life situations to solve real-world problems. I'm looking forward to realising the vision we have for the school, and putting the structure and approaches in place to get us there.

When people think of engineering, they assume it's all about cars, or entirely focused on complex maths and I think we need to inspire people to see beyond that. For me, being an engineer is fun and it's so rewarding to think that you're able to apply your knowledge to help find solutions to such a vast range of real world problems.