News
Dr Andrew Spowage Awarded Grant from the Gas Safety Trust
21 July 2020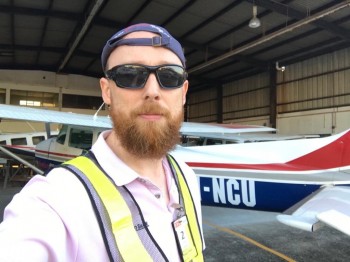 Dr Andrew Spowage
Dr Andrew Spowage has been awarded £10k from the Gas Safety Trust (GST) for his research proposal aiming to understand the state of play in carbon monoxide poisoning in the UKs general aviation sector.

The Gas Safety Trust, established in 2005 as a registered charitable body, has become the UK's leading gas safety research charity with the key objectives of further improving gas/fossil fuel safety for the public and industry throughout the UK and reducing the incidents of death and serious injury from carbon monoxide (CO) exposure. The Trust does this through the funding of research and data collection relating to carbon monoxide poisoning. Since 2013 The Gas Safety Trust has awarded almost £2 million to a range of gas safety programmes and projects. This is the first time that the Trust is offering funding for small grants up to the value of £10,000. The Trust are currently involved in a range of research projects including victims of CO poisoning, Accident and Emergency services, coroners, and low-income households.

The professional footballer Emiliano Sala and pilot David Ibbotson crashed in a light aircraft on 21 January 2019 while travelling from Nantes in France to Cardiff, both people were sadly killed. Toxicology tests found levels of Carbon Monoxide (CO) within the footballer's body was enough to cause symptoms such as seizure, unconsciousness and heart attack. Even without physical examination of the wreckage it seems likely that CO poisoning played an important role in the crash.

The most common sources of CO in general aviation are exhaust gases from piston-driven engines. There are, however, other sources relevant to the wider sector including the exhaust gases from turbine engines, auxiliary power units, airside vehicles, ground servicing equipment and from combustion of materials during emergencies. Should these gases find ingress into the aircraft interior they may come into contact with crew or passengers. The resulting symptoms can vary from nothing noticeable to, in the worst cases, a catastrophic accident with the potential for significant loss of life and collateral damage.

The primary objective of this work is to assess the status, best practices and risks associated with carbon monoxide poisoning across the UK's aviation sector. The work will review publicly available literature to identify the key questions which need to be addressed.

It is believed that this work is particularly timely as the COVID-19 crisis has seen much of fleet grounded for extended period which may lead aircraft maintenance and pilot proficiency issues. Further, the UKs exit from the European Aviation Safety Agency has led to uncertainties within the community and interest from UK based authorities in forming new partnerships.

Dr Andrew Spowage is a Senior Lecturer within the School of Engineering and Materials Science at Queen Mary University of London. His main teaching and administrative responsibilities focus on the school programmes in Xi'an, China. His administrative roles cover Quality and teaching excellence for QMUL Engineering Programmes at NPU as well as Industrial Relations in China.