News
Face Shield donations in response to COVID-19 Pandemic
8 June 2020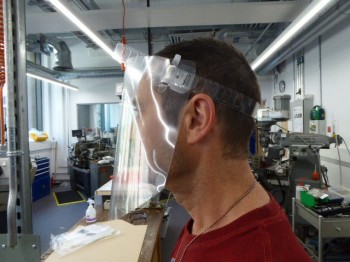 Nick wearing one of the face-shields
The technical team at SEMS-QMUL has been practicing social distancing and working on manufacturing face-shields in response to the COVID-19 pandemic. The workshop team consisting of Dennis Ife, James Searles, Mick Etheridge, Clement Cordery, Nick Duggan, and Andrew McDonald have so far produced over 1100 face shields that have been donated to various hospitals, care homes and charities in and around East London.
The design of the face shield was modified and upgraded from original designs used by Foster and Partners. Design and documentation was also shared with London South Bank University. Dennis stated "We wanted a cheap, easily made, one-material design and the team was able to achieve it. The material cost was only 20 pence per visor. This would have not been possible without the support of my team, Ben Gridley, Jackie Dawes, and John Stark."
A recent collaborative effort between volunteers of Shree Swaminarayan Mandir Kingsbury and the technicians has led to further donations of 60 face shields to care homes in North London namely MHA Riverview Lodge and Matthew Residential Care. Both care homes have thanked the volunteers and the technician team for their generosity and assistance during these times.
Please find links to info sent out by Shree Swaminarayan Mandir Kingsbury, COVID-19 response webpage, and information on donations and distributions that are being led by volunteers.
https://twitter.com/SGadiLondon/status/1267359240475365376?s=09
https://twitter.com/SGadiLondon/status/1267364169436860417?s=09
https://twitter.com/SGadiLondon
https://www.swaminarayangadi.com/london/page.php?id=4019