News
The Centre for Advanced Robotics @ Queen Mary (ARQ) provides essential support for NHS staff during the COVID-19 crisis
21 April 2020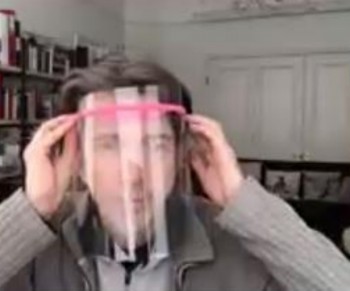 A protective visor using a 3D printed frame.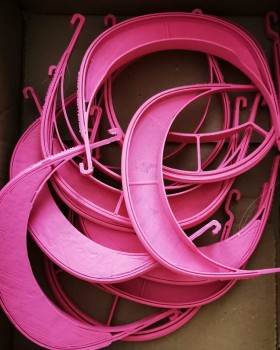 A production run of visor frames.
Members of the Centre for Advanced Robotics @ Queen Mary (ARQ) provide frames for visors urgently needed by frontline NHS staff at main London hospitals including the newly created Nightingale Hospital. In collaborations with clinicians from the Royal London Dental Hospital, Prof Shakeel Shahdad and Ahmed Din, ARQ have taken on the mammoth task of fabricating visor frames using the 3D printing facilities available within ARQ and members' own 3D printers. We managed to produce an incredible 1354 frames to date. But more frames are needed and the team is looking into injection moulding to produce frames in order to step up production.
Volunteers who contribute to the effort, some of them by running their 3D printers day and night, include Joshua Brown (PhD student, EECS), Ildar Farkhatdinov (EECS), Ko Ho Huen (EECS), Faisal AlJaber (PhD student, SEMS), Sami Deiri (3rd year robotics student, SEMS), Alberto Caenazzo (PhD student, SEMS), Kaspar Althoefer (EECS/SEMS).
To continue the work, the ARQ team was awarded £25K by the QMUL IAA COVID-19 Rapid Response Impact Acceleration Fund. Dr Ildar Farkhatdinov (EECS) and Prof Kaspar Althoefer (SEMS) will lead the project entitled: "Production of new-design 3D printed visors for NHS".
The achievements of the team were also publicised in an interview with the leading IEEE robotics magazine (IEEE Spectrum) -
https://spectrum.ieee.org/news-from-around-ieee/the-institute/ieee-member-news/ieee-roboticists-3d-p…
More info:
https://www.qmul.ac.uk/media/news/2020/smd/queen-mary-3d-prints-protective-equipment-for-covid-19-nh…