News
Queen Mary secure new Knowledge Transfer Partnerships to support industry engagement
17 April 2020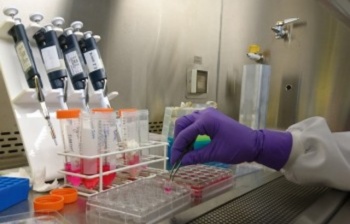 Cell screening of implant materials
The new KTPs, which represent funding of over £500,000, will support engineering projects aimed at developing new biomaterials for bone healthcare treatments, and novel woven colour-changing fabrics for clothing.  
Improving bone healthcare treatments
Working with Lucideon, who are a leading organisation in materials development and commercialisation, Queen Mary will develop new biomaterials and concepts to improve the safety and efficacy of bone health care treatments.
This new 30-month KTP is the result of a long-standing partnership between Lucideon and Queen Mary researchers, Dr Karin Hing and Dr Simon Rawlinson. In this project, the researchers will transfer knowledge of in vitro cell testing and facilitate the setup of new cell culture facilities at Lucideon, which will enable the optimisation and characterisation of novel materials to be used in medical devices and implants.
Creating colour-changing fabrics
The second KTP partnership involves a collaboration with The Unseen, a London-based SME who create their own range of clothing, cosmetics and hair products.
The project, led by researchers Dr Joe Briscoe and Dr Emiliano Bilotti, was rated in the top four of all KTP applications submitted in this funding round, and will look to develop a novel, woven electrochromic device to be incorporated into wearable fabrics. This technology could be used to produce colour-changing sportswear and represents an exciting opportunity to translate Queen Mary research into a growing and dynamic clothing market.  
Industry engagement at Queen Mary
Knowledge Transfer Partnerships
are a UK-wide scheme, which aim to deliver innovative solutions to business problems through the creation of mutually beneficial collaborations between industry and academic organisations. 
Dr Charlie Ellis, Business Development Manager at Queen Mary, said: "Knowledge Transfer Partnerships represent one of the ways Queen Mary continues to engage with our industry partners. We now hold four live KTPs at the University, and many of these projects have resulted from discussions with industry collaborators at our industry forums, such as our Faculty Industrial Research Engagement Day (FIRED-Up) and our School of Engineering and Materials Science's Industrial Liaison Forum. However, Knowledge Transfer Partnerships aren't the only way to engage with our researchers, and we're always keen to discuss new projects and collaborations with interested industry partners."