News
Land Speed Record Attempt in Bolivia
21 February 2020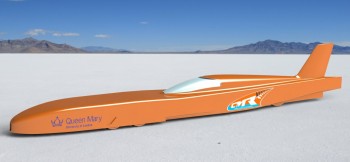 Land Speed Record Challenger Designed by our former Aerospace Engineering Students
The findings of our former Aerospace MEng students (Salah Macan Markar, Karan Sumaria, Tanjir Zaman and Banjoab Kantangul) will be incorporated in the future Land Speed Record Streamliner by CMR Motorsport Challenges. The work has been carried out as part of their MEng project entitled "Land Speed Record Aerodynamics Design Study" under the supervision of Fariborz Motallebi and Dr Eldad Avital in 2018-2019.

The Aerodynamics Director of the CMR Motorsport Challenges wrote:

"Via the Land Speed Record Aerodynamics Design Study, completed in 2018, QMUL made valuable improvements to various aspects of the Wairua I outer mould line baseline. These additions will be taken forward to Phase Two of the aerodynamic design which in turn be used for the land speed record attempt in Bolivia currently planned for 2022/2023."