News
Take the National Student Survey – and claim your £5 SU food outlet voucher!
3 February 2020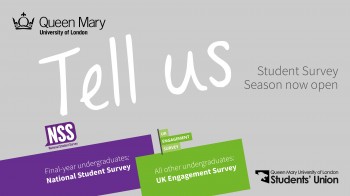 The National Student Survey (NSS) is an annual national survey of final-year undergraduate students in the UK. It gives you an opportunity to tell us what you have enjoyed about your time at Queen Mary as well as about anything you feel could have been improved.
The NSS launched here on Monday, and you should have received an email from Ipsos MORI inviting you to fill the in the survey online:
https://www.thestudentsurvey.com/
This year, we're offering all students who complete the NSS by 17 February the chance to claim a £5 voucher at our Queen Mary SU food outlets.
We encourage you to take this opportunity to have your say and influence positive change at Queen Mary. You can see some of the action we've taken in response to previous student feedback in our 'We listen' statements:
www.qmul.ac.uk/tell-us
. This includes
• We have supported the development of the SEMS Engineering Society to bring together different disciplines through activities and other social events.
• Created a QMPlus form to provide feedback to the school and to enable you to interact with your course representatives.
• Provided additional training to demonstrators in facilitation and feedback to support Problem Solving Classes (PSCs).
• Created a Scientific Opportunities section on our Careers and Enterprise website.
Updated by: Laura Crane-Brewer