News
Materials science research project wins national Engineering Excellence Award
7 May 2019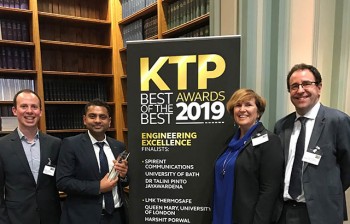 Pictured at the award ceremony (from left to right) are: Emiliano, Harshit (holding the trophy), Jan Stringer (our KTP advisor) and James.
A Queen Mary research project has won a national Engineering Excellence Award at Innovate UK's Knowledge Transfer Partnership (KTP) Best of the Best awards.

The award was presented at The Royal Society of Chemistry in London to LMK Thermosafe, which entered into a KTP with Queen Mary and KTP associate Dr Harshit Porwal to develop novel conductive polymer composites.

A Knowledge Transfer Partnership creates a dynamic three-way collaboration – between a business or not for profit organisation, a UK university or research organisation, and a suitably qualified graduate – to help realise a strategic innovation project, bring about transformative change and embed new capability.

The project was supervised by Dr Emiliano Bilotti and Professor James Busfield from the School of Engineering and Materials Science and led to two patents, several high impact journal papers including one in Advanced Functional Materials. The project has also been supported by two further completed PhD students.

Dr Bilotti said: "With more than 800 KTP projects funded at any one time, it is an exceptional honour for our project to be singled out for this national award."

Dr Busfield also started his own career as a KTP associate with Queen Mary and a rubber company nearly 30 years earlier. He hoped that this was the start of many more KTP success stories in SEMS.

The KTP associate, Dr Harshit Porwal, now works for LMK Thermosafe as a Business Unit Manager.

LMK Thermosafe is the world leader in design and manufacture of Induction Drum Heaters and Flexible Heating Jackets for totes, IBCs, barrels and containers of many sizes, supplying more than 60 countries.

The company is now commercialising safe electrical heaters made from the materials developed during the KTP.

It was a double success for Queen Mary as SEMS alumni Dr Xiaojing Zhu was also recognised as being one of the top five KTP associates in the country.

The awards celebrate the strength and diversity of impact made possible from industry-academic partnerships supported through the highly-valued KTP programme. The awards were judged on criteria including business growth, innovation, transformative change and team and individual contributions.

The Knowledge Transfer Network (KTN) is a network partner of Innovate UK and helps businesses get the best out of creativity, ideas and the latest discoveries, to strengthen the UK economy and improve people's lives.