News
Leading Queen Mary people named as London's most influential
8 October 2019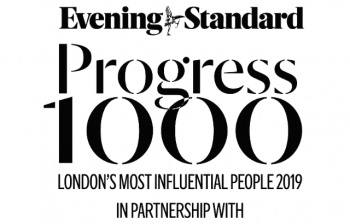 Numerous Queen Mary academics, alumni and students, from across the University's schools and institutions, have been recognised as London's most influential people, in the Evening Standard's 2019 Progress 1000 list.
The Progress 1000 list serves to spotlight and celebrate the most influential individuals in London leading the way and making positive change within their field of expertise. Progress 1000 is about collectively recognising those who have made an impact and pushed on the agenda.
Queen Mary's most influential
Professor of Paediatric Respiratory & Environmental Medicine, Professor Jonathan Grigg Blizard Institute
Professor Grigg has worked extensively on asthma, and highlighting the dangers of toxic air to children.
Professor Grigg said: "Obviously I am pleased to be included in this list alongside some illustrious peers in healthcare and medical research. I think that it is also a tribute to the work and commitment of my research team and clinical colleagues. We would all hope that it raises the profile of issues around the toxic air being breathed by many of our children."
Director of Barts Cancer Institute, Professor Nick Lemoine Barts Cancer Institute
Professor Lemoine has led trials using immunotherapy to tackle the development of oncolytic virotherapy as well as genomics and molecular pathology of pancreatic cancer, the deadliest common cancer.
Professor Lemoine said: "I am humbled to be singled out amongst all the brilliant scientists and clinicians in the Barts Cancer Institute working to develop the new therapies and diagnostics that will radically improve outcomes for cancer patients in London and beyond."
Professor of Inflammatory Bowel Disease, Professor James Lindsay Blizard Institute
Professor Lindsay has worked on trialling stem cell transplants to grow a new immune system for people with untreatable Crohn's disease.
Professor Lindsay said: "I am delighted that our work on autologous stem cell transplantation for refractory Crohn's disease has been recognised by the Evening Standard, and I am honoured to be named amongst such illustrious company. Most of all I am humbled and inspired by our patients who live with the chronic symptoms of inflammatory bowel disease and the impact that this has on their daily life."
London Trauma Director and Professor of Trauma Sciences, Professor Karim Brohi Blizard Institute
Professor Brohi is the director of London's major trauma network and founded one of the first medical websites on the internet, trauma.org, providing open access trauma education to professionals around the world.
Professor Brohi said: "I am honoured to be named in this list – not least because it recognises the hard work of so many colleagues from a range of professions. All the disciplines and specialities at the Royal London Hospital's Major Trauma Centre work together to deliver amazing trauma care. I would also highlight the commitment and drive of my research team, and the amazing institutional commitment to trauma care, innovation and research from both the University and Barts Health."
PhD student, Mr Jan Fras School of Engineering and Materials Science
Mr Fras invented a child-sized robotic hand for youngsters who have lost a limb. The pneumatic 'soft prosthetic' hand, made from silicon, can grip objects more effectively than hard plastic models.
Influential Queen Mary alumni
Dawn Austwick, Chief Executive of the Big Lottery Fund Formerly CEO of the Esmee Fairbairn Foundation, North Londoner Austwick holds one of the biggest jobs in philanthropy.
Clare Woodman, CEO Morgan Stanley International Woodman was the first woman to run a major London investment bank, and is now over a year into the job. 
Martin Griffiths, NHS Clinical Director for Violent Crime Consultant trauma surgeon at the Royal London Hospital who was this year appointed as the NHS's first clinical director for violent crime, leading efforts to deliver the public health approach to tackling the underlying factors driving the capital's knife crime epidemic.
Dara Nasr, Managing Director Twitter UK The former Google executive joined the social network in 2012 to run its sales operation. As well as policing harassment on the platform, Nasr's duties include liaising with brands to use Twitter for their marketing campaigns.
Professor Nick Jennings, Vice-provost of Imperial College London This AI expert is also responsible for the university's research performance and was previously the Government's Chief Scientific Adviser. 
Gavin Lewis, Distribution Chief Vanguard UK  Born in Tottenham to a single parent, Lewis is a key member of Diversity Project, launched to boost diversity among City money managers. He has championed the #talkaboutblack movement in City circles this year and is responsible for managing a $5.3 trillion fund.
More information:
See the full list of
London's 2019 most influential - Progress 1000