News
Li Xi's paper on strain-rate dependence of bone accepted in BONE
14 October 2019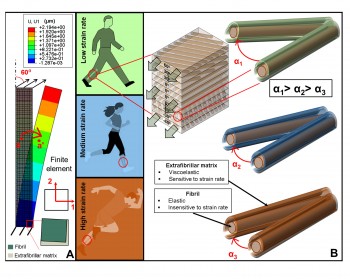 Schematic of different strain-rates encountered by bone during use (left) and the structural model of mineralized matrix deformation at the micro- and nanoscale.
Congratulations to Dr. Li Xi, currently at Beijing Institute of Technology, China, whose paper "Reduction of fibrillar strain-rate sensitivity in steroid-induced osteoporosis linked to changes in mineralized fibrillar nanostructure" has been accepted as part of the special issue in BONE honoring the late Prof. John D. Currey (University of York). The paper's DOI is
https://doi.org/10.1016/j.bone.2019.115111
.