News
Aerospace Engineering students attend extreme flight course
27 June 2019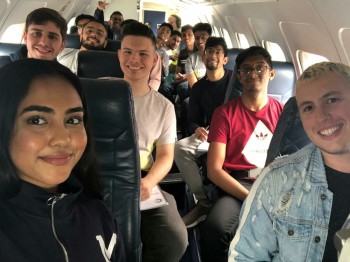 Aerospace Engineering students at the flight course at Cranfield.
Third year undergraduate aerospace students attended an extreme flight course in Cranfield in June. The course allows students to experience when things go wrong in a flight, how to correct them as well as different modes of flight .
Students were flown in a fully-instrumented Jetstream 31 aircraft, experiencing flight modes as Phugoid and Dutch roll, while also getting a real feeling of getting close to stall. It has brought to life the flight manoeuvres taught in class as part of the Stability and Control of aircraft module. The students were given data from their flight to analyse on-site, experiencing the work of flight test engineers.

"This was a truly remarkable opportunity as I was able to experience and apply the theory of aircraft control and stability learnt during lectures. Particularly, I was proud to represent females in engineering and I hope this inspires others to get involved in this innovative industry" Sayama Islam

"When it comes to aerospace engineering the practical aspect highlights how wonderful this degree is, sometimes full of adrenaline. The flight rose the average HR of the passengers due to some exclusive aircraft manoeuvres. After this, a bumby ride on a commercial flight is not going to be your nightmare anymore." Fabian Zaham Khan

" It was a thrilling experience with lots of practical learning of what was covered in the stability and control of aircraft module" Sadat Rashid

Attending the flight course is part of the 3rd year module Stability and control of aircraft.
| | |
| --- | --- |
| | |
| Contact: | Eldad Avital |
| SEMS division: | |
Updated by: Laura Crane-Brewer