News
Technology to capture energy from sea waves awarded funding
24 May 2019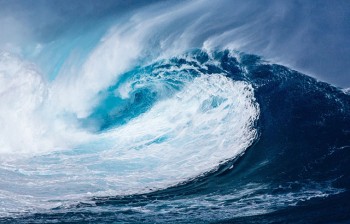 A team from Queen Mary has been awarded funding to develop technology to capture energy from waves at sea.
Wave Energy Scotland (WES) will grant £461,345 to the team from the School of Engineering and Materials Science to develop an adaptive hierarchical model predictive control framework for wave energy converters (WECs).
This technology aims to significantly reduce the cost of generating electricity from wave energy devices by increasing the amount of energy that they can capture. 
The UK has a large amount of sea wave energy resource, which can be potentially harvested to provide clean and renewable energy. However, wave energy is still much less mature compared to other renewable energies, such as solar, wind and even tidal. The bottleneck problem is the low conversion efficiency and high risk of damage.
Great potential
Dr Guang Li, project lead and Senior Lecturer in Dynamics and Control from the School of Engineering and Materials Science, said: "We are delighted to be awarded this funding. This technology has the great potential to significantly improve the energy conversion efficiency of wave energy converters as demonstrated by numerical simulations in our initial investigations. This grant will enable us to experimentally validate the technology and thus will pave the way for its commercialisation."
The team has won the Stage Three Advanced Control System Project. The Control System programme of WES is a key element of its portfolio of work that develops components, sub-systems and wave energy devices. The results and learning from the multitude of WES projects will culminate in the testing of two wave energy devices at sea in Orkney next year.
The team involving Queen Mary, University of Exeter and Mocean Energy Ltd aim to significantly improve the performance of WECs and guarantee their safe operations using advanced control and wave prediction techniques, to reduce the unit cost of wave energy.
Promising solutions
The project will last for 15 months to validate the efficacy of the techniques developed by the same team in the Stage One and Stage Two project. The project will involve wave tank testing experiments using FloWave wave tank facilities in Edinburgh.
Tim Hurst, Managing Director of WES said: "I'm delighted to see these projects going into stage three to conduct a physical demonstration of their advanced control system concepts. Both offer promising solutions to managing the efficiency and safety of wave energy converters. I look forward to their completion next year. "
More information can be found here:
https://www.waveenergyscotland.co.uk/news-events/wes-awards-new-advanced-control-system-projects-1m/
Updated by: Laura Crane-Brewer