News
Industrial Liaison Forum
13 March 2019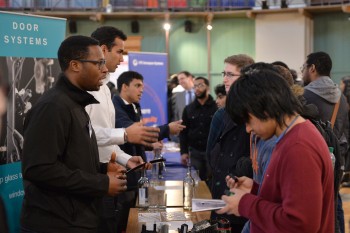 Industrial Liaison Forum Careers and Networking Fair
The School of Engineering and Materials Science hosted a very successful Industrial Liaison Forum (ILF) on Wednesday 13th March 2019 and attracted about 100 visitors throughout the day. The focus was on our Taught Programme Student Projects with more than 100 of our students having the opportunity to discuss their projects with each other, Queen Mary staff and visitors. We also launched the Queen Mary SEMS student mentoring scheme with more than 40 of our guests expressing an interest in becoming a student mentor.

The panel sessions focusing on graduate employment and securing work experience were attended by over 200 of our students. 50 external partners from more than 40 organisations attended a networking event for our students. Simultaneously we had a range of themed discussions with 20 of our Industrial Advisory Board (IAB) partners (from companies such as BP, Ford, Jaguar Land Rover, Rolls Royce & the MOD). These meetings brought up dozens of potential new student projects to explore for the next academic year and provided valuable insights into the significant curriculum review that is being planned for the next year. It was especially pleasing to note that we had a record number of SEMS alumni attend the event this year.

The SEMS Industrial Liaison Forum has now been held twice a year for ten years and provides an opportunity for students, academics and industrial links to interact and further Queen Mary's strong position and reputation within the engineering and materials science sectors.