News
Queen Mary Principal awarded prestigious Honorary Professorship in China
17 October 2018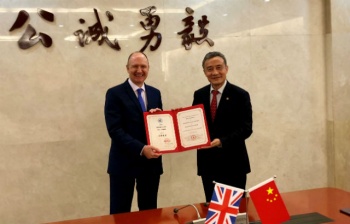 Professor Colin Bailey accepts his Honorary Professorship from NPU's President Wang
Professor Colin Bailey, President and Principal of Queen Mary University of London, has been awarded an Honorary Professorship by Northwestern Polytechnical University (NPU) in China. 

Other recipients of the Honorary Professorships included Nobel Prize Laureates Mario Molina (Nobel Prize for Chemistry in 1995) and Shuji Nakamura (Nobel Prize for Physics in 2014).

Professor Bailey was invited to NPU - one of China's top universities - for its 80th anniversary celebrations. NPU has been a key strategic partner for Queen Mary since 2016, when the two universities launched the first transnational education model of its kind in Northwest China.

Professor Bailey was the only foreign partner and university president invited to speak during the celebrations. Speaking on behalf of partners from 28 countries, Professor Bailey gave a speech to an audience of over 4,500 people.

During his speech, Professor Bailey commented on the collaboration "not only between two major international universities" but between London and Xi'an – two historic cities at both ends of China's 'One Belt, One Road' Initiative. He said: "It is a tremendous honour to receive this award from such a prestigious institution, and I gratefully accept it on behalf of Queen Mary.

"NPU is one of Queen Mary's most important partners; this award is symbolic of the ties between our two great institutions. We have much to gain from our ongoing partnership and will continue to develop more areas of joint activity across both education and research.

He added: "Over the past fifteen years in particular, Queen Mary has worked tirelessly to develop a teaching model of excellence in China. Our Joint Research Institute and new International Centre for Teaching and Learning will underpin teaching through high-level research and talent-cultivation, and help present our partnership as a beacon of international scientific cooperation."

Professor Bailey also attended NPU's Global Partners event, which aims to celebrate international partnerships and elevate NPU's global outlook and international status.

During the visit, Professor Bailey also signed a Memorandum of Understanding (MoU) with NPU to establish two dual master degree programmes in the area of Materials Science and Engineering and Polymer Materials and Engineering.

In July this year, Queen Mary opened an International Centre for Teaching and Learning with NPU. This forms part of the Queen Mary University of London Engineering School of NPU (QMES), a Sino-foreign Joint Educational Institute. QMES is the first transnational education model of its kind in Northwest China and was opened in 2016 in a ceremony attended by the British Ambassador to China.
Updated by: Laura Crane-Brewer