News
SEMS Academic (and Inventor) Adam Sutcliffe featured on Channel 4's "Buy It Now"
18 May 2018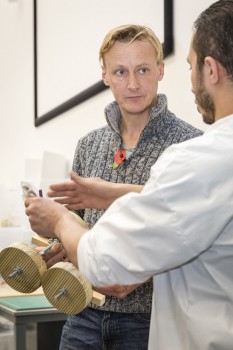 SEMS Academic (and Inventor) Adam Sutcliffe was featured on Wednesday's episode of Buy It Now on Channel 4. The programme gives an opportunity to entrepreneurs, inventors and licence holders who have a product to sell, to pitch their product to a captive audience of potential customers and a panel of professional buyers from some of Britain's best known retailers, with the hope of securing orders.
Each seller has 90 seconds to convince the studio audience to buy their product. If they are successful in selling to at least one member of the audience, they will then have the opportunity to speak to the panel of retailers – who may choose to make an order.
Adam featured on the programme along with his business partners Philippa and Clare demonstrating their product Squidger, a tool to help you squeeze the last bit out of a tube of cosmetics. You can find out more about Squidger here:
https://www.squidger.co.uk/
To see how Team Squidger did you can watch episode 23 of Buy it Now on All 4,
http://www.channel4.com/programmes/buy-it-now/on-demand
| | |
| --- | --- |
| | |
| Website: | |
| People: | |
| SEMS division: | |
Updated by: Laura Crane-Brewer