News
Robots competed in penalty kicks during Design and Build Hack Week 2018
6 February 2018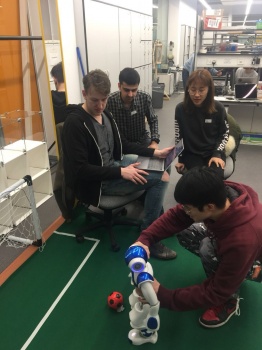 Winning team Phoenix during testing
The Design and Build Hack Week 2018 was held successfully at Advanced Robotics at Queen Mary (ARQ) from 29th Jan to 2nd Feb. A total of 19 participants from London and Beijing took on the challenge of programming NAO Humanoid robots to take penalty kicks.

This is the third year of the exciting engineering competition that brings London students from QMUL and the Beijing students from the joint programme with Beijing University of Posts and Telecommunications (BUPT) together. It is organised by the Joint Programme Innovation Centre (JPIC) and ARQ supported the event by granting space for the students to work at and housing the mini football pitch.

The students were drawn into five teams, they started experiments on different poses to kick the penalties. As they score more goals at corners, the positioning of the robots based on tracking of the red ball is crucial and the students worked very hard to get the distance and angle right. In the middle of the week, Dr Matthew Tang, the organising lead of the event and the Deputy Director of JPIC checked the progress of each team and advised on how to design their second demonstrations, which have to be related to football. The week ended with a competition attended by Professor Simon Lucas, Head of EECS, Professor Kaspar Althoefer, Head of ARQ and Mr Carl Clement, industrial expert in robotics. In addition to accurate penalty kicks, they also showed goalkeeping skills and fantastic celebration dances.

Team Phoenix were awarded as the winners. The judges were all impressed by the stability of penalty kicks of their robots as well as the innovation of their second demonstration. Mr Carl Clement commented during the award ceremony: "You all had turned a robot designed for social interaction into football stars, and I reckoned this is not easy at all." Professor Kaspar Althoefer added: "putting sensors, cameras and motors to work together in harmony is never easy but you had shown fantastic attempts."

Prof Yue Chen, QM Director of the joint programme and the innovation centre, closed the special annual transnational Hack Week event by recognising the hard work of all participants and confirming the massive effort put in by Dr Matthew Tang and the supporting staff to make the event happen.