News
November's Industrial Liaison Forum most successful so far
13 December 2017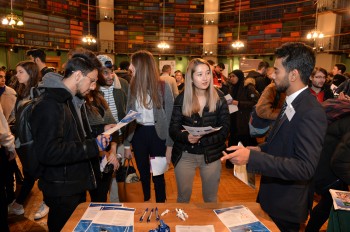 Students enjoying the Careers Fair in the Octagon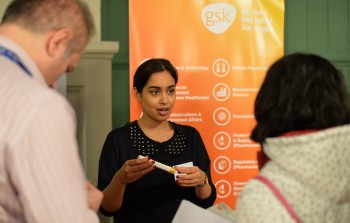 The ILF which took place on the 22nd of November was the most successful held to date with fantastic engagement from students and our industry partners. More than 600 students and 115 external visitors participated throughout the day.

The day started with the research poster display, congratulations to the 3 winners who were picked out of the 72 posters displayed across the 3 categories of Engineering, Materials and Bioengineering.
Pavanakumar Mohanamuraly , whose supervisor is Jens- Dominik Mueller, won the Engineering category for his poster on "Fast uncertainty quantification using multi-level adjoints"
Yinping Tao won best Materials poster for "Parametric Models for Life Prediction of HNBR/Carbon Cord Composites". Yinping is supervised by James Busfield and Emiliano Bilotti.
Arturo J. Mendoza Meinhardt, whose supervisor is Alvaro Mata, won the Bioengineering category for his poster on on "Peptide Amphiphiles as a Platform for the Manipulation of Protein Conformation"

There were 3 Industrial Advisory Board meetings in the afternoon with 33 of our Industrial Advisory Board partners in attendance. SEMS students were able to attend the panel sessions to get a real insight into our visitors' careers. The day finished with a careers fair, taking place in the Octagon there were 50 different companies represented for our students to talk to. Companies included: GSK, Rolls Royce, Siemens, UTC Aerospace Systems and The Rail Group.

Thank you to everyone who took part!
Updated by: Laura Crane-Brewer