News
SEMS student part of International Student Welcome with Deputy Mayor
6 December 2017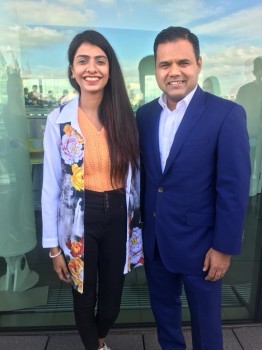 Arooj Humayon with Deputy Mayor of London Rajesh Agrawal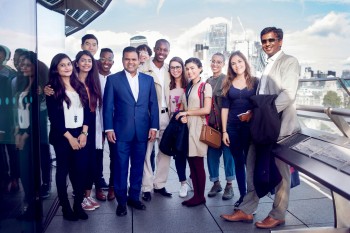 Arooj Humayon, who studies at SEMS, was one of 11 lucky students selected to take part in International Student Welcome event at London's City Hall on 25 October 2017. The students were from 11 different universities, 9 different countries and are studying wide range degree subjects.
The Deputy Mayor of London Rajesh Agrawal welcomed the students to London before they were given a tour of London's most famous landmarks including The Globe, The London Eye and a speed boat ride on the Thames.

Arooj said: 'Meeting the Deputy Mayor was very exciting, he was very warm and welcoming. He gave us some amazing tips on how to go about living the life in London. The whole day was amazing, I'm just glad that I was selected to be a part of it.'
'London is beautiful, refreshing and dreamy. The thing that I love the most about London is the amount of things you can do here and not get bored. You can explore all you want and you still won't run out of places to go visit. That is the beauty of London.
'QMUL is a place filled with people from very diverse backgrounds. Something is always happening on campus and that is what excites me the most about my university.'

Arooj moved to London from Pakistan to study MSc Sustainable Energy Systems, you can read her full blog on the Study London website at the link below.
Updated by: Laura Crane-Brewer