News
QMUL awarded £1m grant to establish robotics centre for tackling nuclear waste
15 November 2017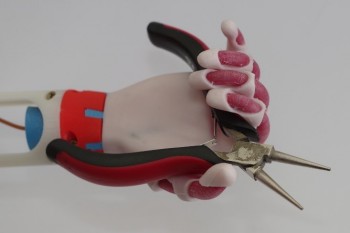 Soft robots for manipulation developed by Professor Kaspar Althoefer at ARQ
The Centre for Advanced Robotics @ Queen Mary (ARQ) has been awarded a £1m grant to help set-up a world-leading centre of excellence for nuclear robotics in the UK.
ARQ is a cross-faculty multidisciplinary research centre, bringing Queen Mary robotics activities under one roof. ARQ's activities span across the School of Engineering and Material Science (SEMS), School of Electronic Engineering and Computer Science (EECS), School of Biological and Chemical Sciences and Medical faculty.
The funding has been given by The Engineering and Physical Sciences Research Council (EPSRC) and will go towards the creation of the National Centre for Nuclear Robotics (NCNR). The NCNR is a multi-university project to bring together a diverse consortium of experts in robotics, AI, sensors and radiation resilient embedded systems to address nuclear waste problems.
Cleaning up the UK's 4.9million tonnes of legacy nuclear waste is the largest and most complex environmental remediation task in the whole of Europe. Much of this must be done by robots because the materials are too hazardous for humans, but many of the necessary robotic solutions remain to be developed.
SEMS Academic and Head of ARQ, Professor Kaspar Althoefer, said: "The EPSRC funding provides us with an excellent opportunity to develop a variety of robotics capable of tackling the UK's nuclear waste problem. We have a duty to eliminate the need for humans to enter such hazardous environments wherever technologically possible and the research at the NCNR Hub will apply to other industries where this is also a necessity."
Full story available on QMUL news page here:
http://www.qmul.ac.uk/media/news/items/se/200830.html