News
Dr Hasan Shaheed receives NTF award & leads Research-teaching integration Seminar
1 November 2017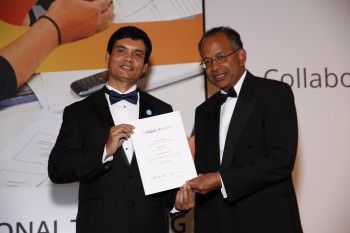 Dr Hasan Shaheed receiving his award from Professor Rama Thirunamachandran.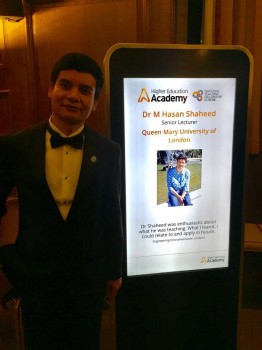 Dr Hasan Shaheed received his National Teaching Fellowship Award, 2017 on 1st November at the Higher Education Academy's annual awards ceremony for the 2017 National Teaching Fellowships (NTFs) and 2017 Collaborative Awards for Teaching Excellence (CATE). The event was held at the Church House Westminster, London. Hasan was presented with a certificate from Professor Rama Thirunamachandran, Chair of the Higher Education Academy Board and Vice-Chancellor of Canterbury Christ Church University.
Dr Hasan Shaheed will also lead the first in a new series of Academic Development Seminars on the subject of 'Research-teaching integration' organised by CAPD, QMUL. The Seminar takes place on Thursday 9 November, 12:30-13:30 in Scape 0.14.
You will need to book to attend the Seminar. For more information about the seminar and to book you place please visit the link below.
https://academicdevelopment.qmul.ac.uk/events/new-academic-development-seminar-research-teaching-int…
Updated by: Laura Crane-Brewer