News
SEMS academic Professor Magdelena Titirici awarded honorary PhD from Stockholm University
13 October 2017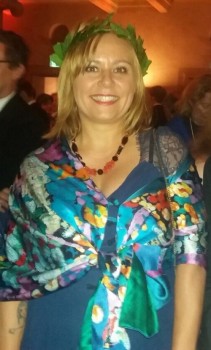 Professor Titirici with the laurel wreath received at the ceremony.
SEMS academic Professor Magdelena Titirici has received a prestigious Honorary PhD from Stockholm University for her work in sustainable materials for renewable energy. She was awarded the degree from the Natural Science Faculty (Chemistry) in recognition of her collaborative research efforts with the Swedish institution. Professor Titirici was named among other notable honoraries including former French footballer and World Cup winner Lilian Thuram as well as Pulitzer prize winning journalist Susan Faludi.

She said: "I'm really pleased to be awarded the honorary PhD, I have been collaborating quite a lot with Stockholm University so it's great to be recognised for my contribution. My work is mostly on sustainable materials and their applications in renewable energy. Sweden has a lot of bio resources so I've been working with the University on various applications like making materials from biomass and using them to store energy in supercapacitors."

Since joining QMUL in 2013 as a Reader she has gone on to become Professor in Sustainable Materials Chemistry, working on research such as making cheap solar cells from shrimp shells and developing batteries from sodium instead of lithium. It was during her Postdoc at the Max-Planck Institute of Colloids and Interfaces that Magda's interest in sustainable materials grew.

She said: "My project was to make some well-defined chemicals from biomass and while doing that I came across something else - that you could produce carbons from biomass by mimicking the natural conformation. You can do that in a few hours rather than hundreds of millions of years as nature does it. So you can produce carbon from biomass in a very simple low temperature process a bit like high pressure cooking at home. It's called hydrothermal carbonisation."

Since then she has continued to explore the various fundamentals of this work, and how it can be used as an alternative to scarce materials in renewable energy.

"For example rather than using a platinum catalyst in a fuel cell you could engineer carbon and use that as a metal free catalyst instead," she added.

"I'm very much passionate about addressing sustainability in materials and renewable energy. However, the way we are developing technologies at the moment is not necessarily the most sustainable because we're using precious metals. These are as limited as oil resources.

"If we continue at the same rate and we don't recycle them we're going to run out of metals. Maybe in 50-100 years we'll have the technology but we'll have the same problem because we don't have the resources. How can we build technology that will be truly sustainable in 200-300 years?"

Last year Dr Titirici was also awarded the Rosenhain Medal from the Institute of Materials, Minerals and Mining which is presented in recognition of distinguished achievement in any branch of materials science, to candidates under the age of 40.

And with more research on the way, Professor Titirici publishes around 20 papers per year, it would be no surprise if she were awarded further accolades.

"That's the key of being a successful scientist, you need to always have something in the pipeline," she said.
Updated by: Laura Crane-Brewer