News
First undergraduates welcomed at Joint Educational Institute in China
18 September 2017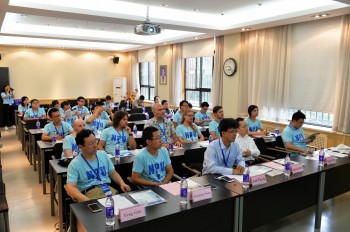 As we are set to welcome our 2017 cohort; The Joint Educational Institute (JEI), a partnership between Queen Mary University of London (QMUL) and the Northwestern Polytechnical University (NPU), has already welcomed its first cohort of undergraduate students in Xi'an, China.
NPU President, Professor Wang Jinsong, and QMUL President and Principal, Professor Simon Gaskell, greeted the 249 students for their first lecture on 27 August.
The two universities also signed an agreement to set up a Joint Research Institute (JRI) in Advanced Materials and Structures to promote research collaboration, with five research centres jointly led by academics from QMUL and NPU.
Professor Edmund Burke, Vice Principal for Science and Engineering at QMUL, who also attended the visit, said: "It was a great honour to welcome the first cohort of students and we hope this will be the first of many successful years for the Joint Educational Institute. Signing the agreement for the new Joint Research Institute also marks a perfect way to strengthen QMUL's partnership with NPU and will create a fantastic opportunity to collaborate on research."
QMUL and NPU, one of China's top universities, launched the JEI to create a broad partnership in providing transnational university education in the field of Engineering Materials.
The Institute is initially offering two undergraduate programmes, BEng Polymer Materials Science and Engineering as well as BEng Materials Science and Engineering.
The JEI, which has been approved by China's Ministry of Education, is based at the NPU campuses in Xi'an, in China's Shaanxi province. It provides degree programmes taught in English jointly by NPU staff and QMUL staff from the London campus. Successful students of the Institute will be awarded a degree from each of the two universities.
Original story avaliable at:
http://www.qmul.ac.uk/media/news/items/199693.html