News
PhD student Servann Herou wins best poster award at the Faraday Discussion Meeting
27 July 2017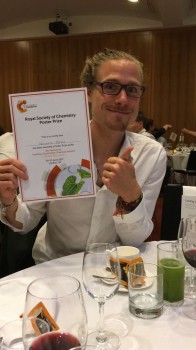 Servann Herou with his award
Congratulations to our PhD student Servann Herou who has won the best poster award at the Faraday Discussion Meeting Bio-Resources: Feeding a Sustainable Chemical Industry. The event organised by The Royal Society of Chemistry took place in London between 19-21 June 2017.
The Faraday Division have been organising high impact Faraday Discussions in rapidly developing areas of chemistry and its interfaces with other scientific disciplines for over 100 years. This Faraday Discussion aimed to address some of the critical issues in sustainable chemistry by bringing together experts in different but complementary areas in the chemical sciences.
Servann's research interests include production of carbon nanomaterials from lignin and exploration potential applications.