News
SEMS student wins QMSU design competition
24 May 2017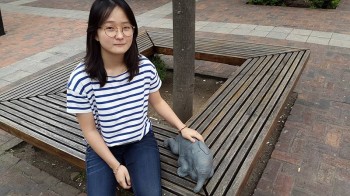 Chierol with her winning design, Elephant in the Room, in Library Square.
In October, QMSU set up a competition for students to design an object inspired by mental health. The winning design would be will be built and put in as a permanent fixture on Mile End campus.

Chierol Lai, a Design, Innovation and Creative Engineering student, won the competition with her sculpture proposal - 'Elephant in the Room'. The sculpture has been installed on one of the benches in Library Square.

Chierol described the piece in her winning proposal, "The sleeping baby elephant cast out of bronze resin is a sculpture designed to raise awareness and even help with one's mental health. The elephant being the metaphorical idiom for problems no one wants to talk about and sleeping baby for the tranquility and innocence. The material choice, cast bronze resin, is what encourages interaction between the public and sculpture. Bronze resin allows the baby elephant to look more realistic due to its similar colouring but it is also a material that becomes more and more shiny and golden depending on frequency of people caressing it. Just like how people change this sculpture can change over time as well.

With this sculpture I hope to achieve the normalisation of mental health and to remove the stigma. Most importantly, whether you are going through a hard time or not the sleeping baby elephant is just there to keep you company and to help you feel more at peace."

Congratualtions to Chierol for her winning design.
Updated by: Laura Crane-Brewer