News
SEMS delegation in China
29 March 2017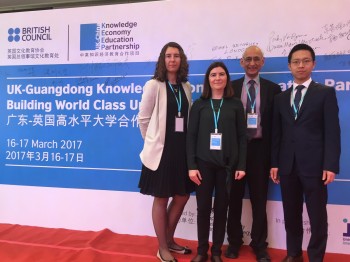 On the 16th and 17th of March, a delegation from SEMS, composed of Helena Azevedo, Pankaj Vadgama, Nuria Gavara and Wei-qi Li, participated in the UK-China Knowledge Economy Education Partnership (KEEP) Regional and Provincial Partnerships for Excellence Higher Education Mission to Guangdong. The initiative is organised by the British Council and the Guangdong Provincial Education Department in Guangzhou.

The agenda consisted of a 2-day workshop aimed at discussing best practices in education and research collaborations toward the development of world class universities in the Guangdong province.
The delegation also visited the Department of Laboratory Medicine, led Prof Lei Zheng, at Southern Medical University and has discussed new ways for future training and research collaborations between both institutions.
Updated by: Laura Crane-Brewer