News
Mexican solar steam project wins funding
15 March 2017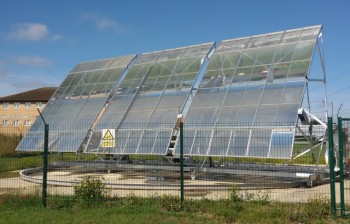 The Larkfleet Solar Steam prototype
A revolutionary solar thermal technology is to be tested in Mexico, thanks to funding secured by Queen Mary University of London (QMUL) and industry partner Larkfleet Ltd.
The funding, provided by Innovate UK, the Newton Fund and the National Science and Technology Council in Mexico (CONACYT) will allow an already developed prototype of the solar collector to be improved, to the point of commercialisation, at a site in Mexico's Morelos state.
With a total budget of £800,000, the project kicked off in February 2017 and is expected to take two years to complete.
Dr Rafael Castrejon Pita, the project's Principal Investigator and Lecturer in Applied Sciences at SEMS, said: "The Innovate UK funding is an excellent opportunity for us as an academic institution to work together with the industry to explore innovative solutions to global challenges. Our project has the potential to bring cheap and clean heat to processes that normally rely on other non-renewable energy sources. Moreover, we aim to develop a system that is transportable and easy to set up."
QMUL acts as the project's UK academic partner, leading the research on lenses and solar collectors. The team will work with external partners including the National University of Mexico (UNAM) and ITEnergy, who will facilitate the implementation of the system in Mexico.
It relies on innovative solar steam technology, developed and patented by Bourne-based Larkfleet Ltd, which uses plastic Fresnel lenses instead of conventional glass reflectors used on solar collectors
The new design is lighter, which makes it transportable and potentially easier to manufacture. A prototype of the design exists in Peterborough but the funding now allows the project to test an improved rig under higher solar radiation in Mexico. The Latin American country has some of the highest solar radiation in the world, but lacks sustainable methods of supplying low carbon heat to the industrial sector.
The technology is ideal for medium temperature applications, such as manufacturing textiles, chemicals and medicines, cooking, or any application requiring temperatures up to 250C.
http://www.youtube.com/watch?v=pg0TPd4myoo
Updated by: Laura Crane-Brewer