News
QMUL students win European virtual reality tech clash
10 January 2017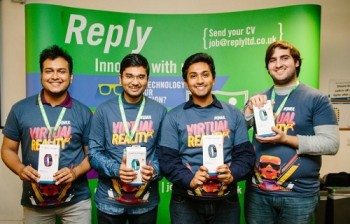 L-R: Adnan Salehin, Ayush Verma, Aniruddha Ray and Giorgi Karkashadze
A group of Queen Mary University of London (QMUL) students won a Europe-wide tech clash with their idea to create a virtual reality platform for education.

They were successful at the Student Tech Clash, organised by the Reply network, which offered students the opportunity to try out virtual reality technology and work for one day on business ideas.
he team of four suggested creating an open platform where universities and industries could collaborate to bring virtual reality experiences to students. This could allow them to experience things that are dangerous or not possible such as recreating historical events, experimenting with explosives and visiting volcanoes.

They were announced as the winning team at the QMUL event on November 4. It was then revealed on November 11 that they had also won the overall prize in the competition, beating three other European universities: FAU Erlangen in Nuremberg, Politecnico in Milan and Politecnico in Turin.

Team members came from across the College - SEMS student Aniruddha Ray, Adnan Salehin, Ayush Verma, both Computer Science students and Giorgi Karkashadze whi is studying Economics and Business Management.

Adnan said "The main idea was to use virtual reality and augmented reality in education to achieve things that are not actually possible or pose safety issues to students, while also offering a hands-on experience without any risk to make studying more interesting and fun while being more informative at the same time."

Congratulations to the team.