News
Sherif wins RMS Beginners' Competition
20 December 2016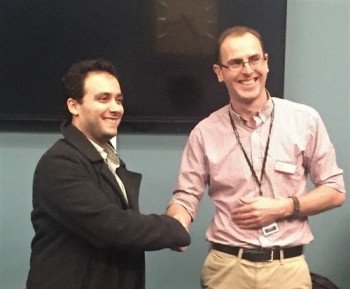 Sherif is pictured here receiving his award from Dr Alex Ball, Secretary of the SEMT.
Congratulations to SEMS PhD student Sherif Elsharakawy who won the annual Royal Microscopical Society (RMS) Beginners' Competition for his presentation entitled 'Multiple Length-Scale Imaging of Biomimetic Hierarchical Mineralized Materials'.
The competition is held during the annual conference of the Society for Electron Microscope Technology (SEMT). Mohammed Al-Mosawi also presented in the competition from QMUL and both students gave excellent presentations that impressed this broad ranging electron microscopy conference attended by more than 130 delegates from around the UK.