News
Success for students at the Industrial Liaison Forum
19 December 2016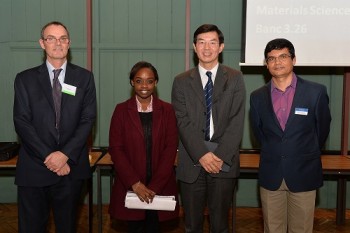 Ms Ololade Opemipo Obadina receiving her prize from Professor Wen Wang, sponsor Martyn Bennett from ARTIIS and Dr Hasan Shaheed.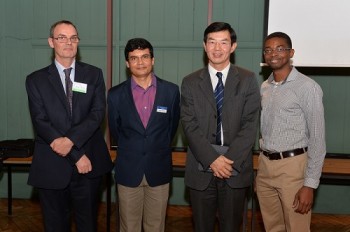 Mr Stephen Adira Agha getting his award.
Dr M. Hasan Shaheed's Research Group won TWO of the three Best Poster Prizes at the recent Industrial Liaison Forum. First Ms Ololade Opemipo Obadina was recognised for her research on a master-slave robotic system for medical applications and then Mr Stephen Adira Agha was given an award for his research on an intelligent semi-autonomous solar-powered helicopter. Congratulations to both students and to Dr. Shaheed.
Updated by: Laura Crane-Brewer