News
Engine success for QM Formula Student Team
9 December 2016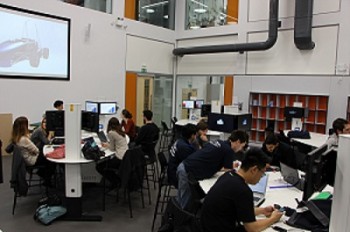 The team working in G27
Queen Mary Formula Student have celebrated a historic milestone – for the first time in the society's history the team have successfully started their engine! This is a huge achievement and testament to the commitment and hard work of the team. The team are hoping to participate at Silverstone in the IMechE run Formula Student competition by designing, building and racing a formula style single seat race car. They aim to produce a fully functioning car by summer 2017, if you (whether you are an academic or a student) think you can help them meet this ambitious aim then email:
qmformulastudent@gmail.com
You can watch the moment for yourself in the team's video below.
Last Friday we made history at QMFS!! FIRST ENGINE START!! Congratulations to Powertrain and Electronics!! ???????? @FormulaStudent #WeDidIt #QMUL pic.twitter.com/c7R8dIzdAi

— QM Formula Student (@QueenMaryFS) November 30, 2016
Queen Mary Formula Student is a student-run society filled with members from very different academic backgrounds with Engineering students working alongside peers from Film and Finance programmes. Aqil Hussain, an Aerospace Engineering student and the team project manager believes this is part of the team's strength, saying 'With the diversity that comes from the exceptional academic backgrounds of both our engineering and non-engineering students, we are able to promote innovation within our team.' All students at QMUL are welcome to apply to join as team members, provided they can demonstrate their enthusiasm and commitment.