News
SEMS Student attends All-Party Engineering Group debate at the Houses of Parliament
30 November 2016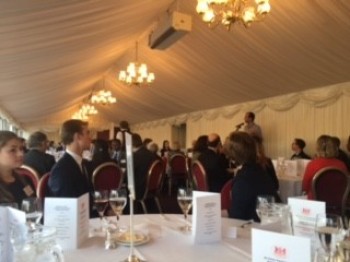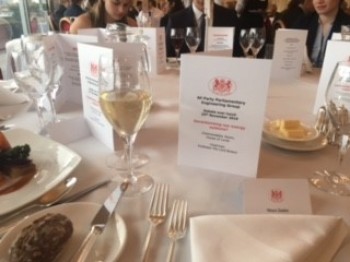 On November 22nd SEMS student, Maya Zataar, was lucky enough to attend the All-Party Engineering Group debate over lunch at the Houses of Parliament. The event was attended by students and professionals from industry (Atkins, Vodafon, IMechE). Maya has written an account of the visit below:

The visit began with drinks in the Cholmondely room in the Houses of Lords, where we had the opportunity to talk with young professionals, telling us about current projects and their roles in their companies before we moved to the dining room where the debate took place. Professor the Lord de Broers, Co-Chair of the Group, introduced the debate on the decarbonisation of our energy systems, and presented the three guests speakers: Professor John Loughhead (Department of Energy and Climate Change in 2014 and Fellow of QMUL), Mike Thompson (Committee on Climate Change) and Professor the Lord Oxburgh (Vice Chair of the All Party Parliamentary Climate Change Group and sits on the Science and Technology Committee).

Their speeches highlighted the roles of engineers to find solutions to our energy crisis - the alternative solutions to fossil fuels, the involvement of the Parliament and the UK politicians to eventually reduce its CO2 emissions, and potential solutions to achieve that goal. Once the three speakers had finished, the debate was opened for questions from the audience. The questions included interrogations on the costs of renewable energies, potential ideas to harvest more solar energy, the future of the UK energy deals after Brexit, the Paris agreement being jeopardised by Trump's election, and how to improve the efficiency of energy systems. The three speakers alternatively answered these questions. The UK doesn't intend to change its internal energy goals after Brexit, nor slow the energy transition down. Global goals for the reduction of CO2 emission might be altered by Trump's election, who mentioned during his campaign his wish to not follow the Paris agreement, but hasn't spoken of this since the election. China and India, the two biggest countries in the world in population, are still massively using coal as their power generation fuel, and are therefore the biggest actors for the coming times to reduce CO2 emission. Costs was agreed to be the most important factor in an energy project, and that as engineers when improving or creating an energy system, costs will always have the last word.

This event was very instructive and impressive, with a lot of very interesting people, all eager to make the UK a leader in alternative energy. This debate was a great opportunity to understand the role of engineers in this energy crisis, the challenges that we need to face as engineers and citizens, and the potential solutions to reduce our environmental impacts.
Updated by: Laura Crane-Brewer