News
SEMS students win 2016 Beijing Overseas Talent Entrepreneurship Challenge
16 June 2016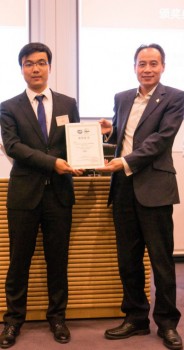 Xingchen Zhang (L) accepting his award at the competition
On 11th June, Xingchen Zhang, a PhD student from SEMS, led his team to victory in an entrepreneurship challenge held in the University of Oxford.

The 2016 Beijing Overseas Talent Entrepreneurship Challenge (UK Division) is organized by Beijing Overseas Talents Center and Oxford Chinese Students & Scholars Association, aiming at finding excellent projects in UK which can be built into products and have great commercial potential. The winners of UK division will participate the final in Beijing in early July, where competitors will be in attendance from all over the world.

Many of the projects in the final of UK division were from the University of Oxford, Imperial College London, and Oxford Brookes University. Xingchen's team won this division following a 10 minutes presentation and after answering questions from eight judges. The entrepreneurship project is entitled "Wi-Fi-based gesture recognition and vital signs measurement system", which aims to extract gesture as well as vital signs from Wi-Fi signal.

Initially, the team consisted of Xingchen Zhang and Yifang Zhang, who is a previous SEMS master student. Recent additions to the team include Chang He from the University of Surrey and Siyuan Zhan from SEMS. Two professors from Huazhong University of Science and Technology and Shanghai Jiao Tong University acted as their advisers.
Updated by: Corinne Hanlon