News
SEMS' Qstar beat over 550 to win second prize in robot competition
3 June 2016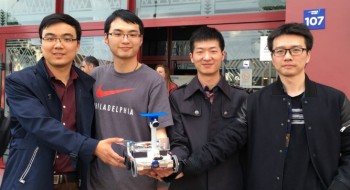 The team stand proudly with their robot. From L to R is Xingchen Zhang, Siyuan Zhan, Chang He and Feifan Zhang.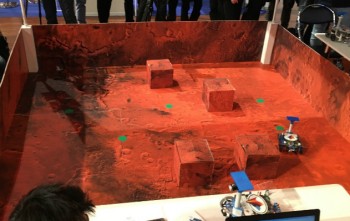 The robot had to navigate this terrain to find the green dots.
The Qstar team have beaten over 550 other teams to be awarded the second prize in the Mission on Mars Robot Challenge.

The Mission on Mars Robot Challenge 2016 is an international robot competition event organised by MathWorks Inc. which this year had more than 550 participating teams from 54 countries. Qstar were the only UK team in the quarterfinals.

The objective of the competition was to develop a navigation and obstacle avoidance algorithm to secure the targets in the shortest possible time whilst avoiding all of the obstacles.

The final of the competition was held at the centre stage of the international robot exhibition INNOROBO in Paris, with more than 200 exhibiting companies in attendance including world famous Huawei, Orange, Nvidia and MathWorks.

Well done to all of the team members of team QSTAR who are: Siyuan Zhan, Xingchen Zhang, Feifan Zhang from Queen Mary and Chang HE from the University of Surrey.
Updated by: Corinne Hanlon