News
Bioengineering the Human Body: Organ on Chips? Tuesday 29th March
15 March 2016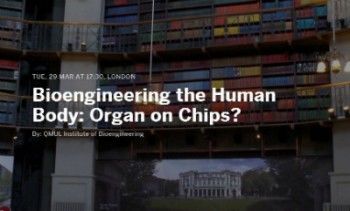 Bioengineering is set to change the future of medicine by applying leading edge engineering to solving health problems.
We are proud to present a public lecture by the distinguished Harvard Professor Donald Ingber "The Next Technology Wave – Biologically Inspired Engineering".
He will talk about his work creating artificial human and animal organs on chips at the Wyss Institute at Harvard. This will revolutionise the practise of medicine by developing our ability to model and understand disease and by helping to test new medicines.
The event will be introduced and hosted by Robin Ince from the BBC radio show The Infinite Monkey Cage.
The event is free and open to the general public. Come along with your family and friends to an evening of lively discussion and good humour, plus we'll have some surprising entertainment activities
We are very grateful to the Royal Academy of Engineering for supporting Professor Ingber's participation in the event.
Tuesday, 29 March 2016 from 17:30 to 20:00
Sign up here:
https://www.eventbrite.co.uk/e/bioengineering-the-human-body-organ-on-chips-tickets-20857090118?aff=…
Updated by: Corinne Hanlon