News
Introducing SEMS's very own comic artist!
23 February 2016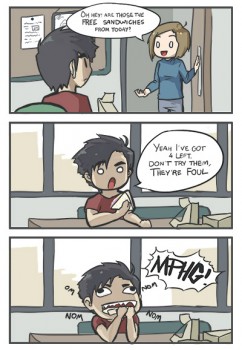 See more of Chris Claudet's work on Facebook, search for 'iamdaboya'
SEMS is proud to introduce you to the work of Chris Claudet – our first year Mechanical Engineering student who is making splashes with his comics.

Chris first started making comics when he was 12 years old, but has now moved into digital comics. His newest comic series is called Doodle Diddums and reflects his lifestyle as a hobbist artist and a student living a slightly unconventional life.

He has been inspired by David Besnier and Arin Hanson before embarking into his own original pieces. If you like this snippet of Chris's work, check out his Facebook page called 'iamdaboya'.
Updated by: Corinne Hanlon