News
Congratulations to Menglong Huang
7 December 2015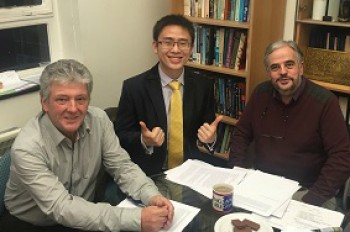 Menglong is pictured wit his two examiners immediately after the viva
Dr Menglong Huang joined the distinguished role call of PhD alumni from the Soft Matter Group at QMUL.

His project developed a pioneering technique to measure the dielectric behaviour of a filled elastomer under strain whilst simultanously characterising the mechanical behaviour. This project can lead on to smart stretchable sensors and can also enhance understanding of filler reinforcement. He was supervised by Prof. James Busfield assisted by Dr. Haixue Yan, Dr. Emiliano Bilotti and Prof. Alan Thomas.

After the exam, one of the examiners, Prof. Peter Foot, said "It was a pleasure to meet Menglong. I have done many PhD vivas over the years, and Menglong's viva performance was amongst the very best that I've experienced. He is a fine scientist. The quality of the work described was excellent and the outcome certainly does QMUL credit."

Menglong is joining one of Europe's best elastomer groups at the Laboratoire Polymères et Matériaux Avancés, CNRS/Solvay, France as a research assistant.
Updated by: Corinne Hanlon