News
The largest employers event held this autumn at QMUL was in SEMS
3 December 2015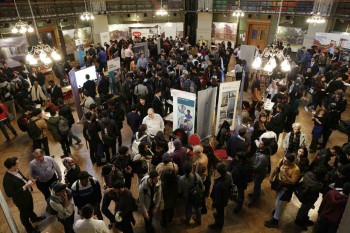 The Employers Networking forum in the Octagon
The School of Engineering and Materials Sciences' Industrial Liaison Forum in October 2015 featured six different panel sessions and an Engineering and Materials Employer Networking Event hosted in the Octagon. This is a great opportunity for our current students to network with employers and to find out about the careers available to them.

The event was a fantastic success with a record number of our students registering and more than 500 in attendance at the final forum, making the 2 hour event the largest event run by QMUL Careers & Enterprise this semester. The beautiful and spacious Octagon reached its full capacity at times during the event!

The School of Engineering and Materials Sciences would like to thank the 59 industrial partners who participated in these events and James Weaver and his team from Careers & Enterprise for coordinating the final networking forum for us.

This level of student and partner engagement is clearly having a very positive impact on our student employability which jumped 8% to 92% for the graduates of 2014.
Updated by: Corinne Hanlon