News
SEMS opens bespoke teaching area following £7.5M spend
1 December 2015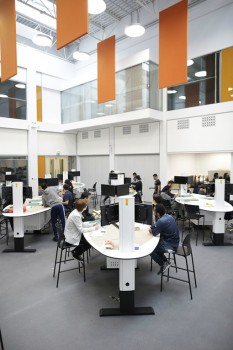 A major redevelopment totaling £30 million to modernise, expand and enhance the space and facilities of the Engineering Building at the Mile End campus is well underway.

The first phase of work started in March and is taking shape. The undergraduate teaching space – G27– re-opened this month with state-of-the-art equipment to support teaching in the School of Engineering and Material Sciences (SEMS). The Human Performance Laboratory relocated and has been in use from September, supporting research and teaching activity.

"G27 provides flagship teaching space incorporating bespoke interactive learning facilities which will enhance the delivery of our programmes," said Jayne Hawkins, School Manager, SEMS.

Both staff and students in SEMS are excited to make the most of this space.
Updated by: Corinne Hanlon