News
SEMS student crowned as the best UK graduate in the field of ceramics
19 November 2015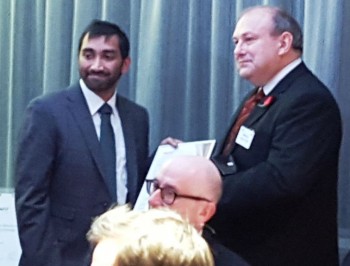 Congratulations to Sinclair Ryley Ratnasingham for winning the AT Green Award from the Institute of Materials, Mining and Minerals (IOM3) at the annual Institute Awards dinner on the 11th November 2015. This award is for the best graduate in ceramic materials in the UK. Ryley was the first student from QMUL to win the prize since Lovoni Rahman in 2009.

Ryley, who graduated in the summer of 2015 with an first class MEng in Materials Science and Engineering, was nominated by Prof James Busfield along with two other classmates who made it through to the finals Åsa Jerhagen and Saba Burney. Åsa made the final for the RH Craven Award and Saba for the Royal Charter Prize. Congratulations to all three candidates for making the finals.
Ryley has recently commenced his PhD working in the Plastic Electronic Materials DTC shared between QMUL and Imperial.
Updated by: Corinne Hanlon