News
SEMS Researcher awarded maximum amount for Wellcome Trust Seed Award
14 October 2015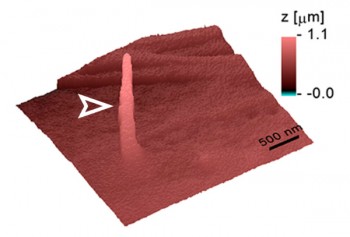 Imaging showing a primary cilium which is less than 500 nanometers in diameter (Novak)
Dr Pavel Novak has been awarded £99,983 for his latest research project on primary cilia. This funding will allow him to continue making advances and will be used to hire a specialised postdoctoral researcher and to purchase state-of-the-art equipment.

Primary cilia play a very important, but little understood, role in our bodies. Many of our cells are regularly exposed to mechanical forces and chemical signals both of which need to be sensed and responded to correctly - this is where the role of primary cilia lies.

Primary cilium is present on the surface of virtually every cell with tiny dimensions making it incredibly difficult to study directly hence they are not fully understood and our understanding of their function in health and dysfunction in disease is incomplete. This could be delaying the development of effective treatment.

Pavel's group will combine the latest technology in scanning probe microscopy, electrophysiology and confocal microscopy to overcome the limits of existing approaches, and study the function of mechano-chemical receptors directly at their present location within the fine structure of cilium.

Speaking of the research, Pavel is excited that "the research may identify the receptors critical for proper function of primary cilium and help to reveal what happens to both their function and location in case of disease. These receptors may then become targets for development of treatment strategies".

Pavel's project is entitled 'Mapping mechanotransduction mediated by primary cilia at nanoscale'.
Updated by: Corinne Hanlon