News
QMUL Open Day on 10th October will bring thousands to campus
8 October 2015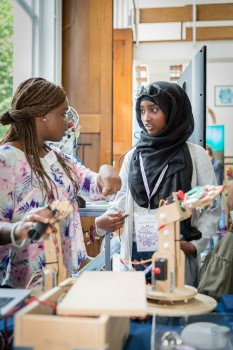 Current student Lola (on LHS) discussing the robotic arm her studies are based on at the June 2015 Open Day.
The first undergraduate Open Day of the academic year is taking place on Saturday 10th October. The last Open Day saw almost 17,000 visitors to QMUL!
This is a major event in the diaries of QMUL staff and sixth form students. The Open Day will give students the chance to wander around the only campus-based university in London, speak to the staff who teach on our degree programmes and speak to the current students here.
SEMS will have almost 30 current students speaking on topics varying from their personal experiences at QMUL, why they did a foundation year, why they chose the subject they are studying, what their year in industry was like and what their research project consists of.
There will be over 30 staff available to speak to prospective students about what studying at university is like, the modules they teach and also the industrial contacts they have.
SEMS will be offering 15 talks for prospective students to attend.
If you haven't registered, do so quickly! If you have, we will see you on Saturday.
www.qmul.ac.uk/undergraduate/openday/index.html
Updated by: Corinne Hanlon