News
Bioengineering for Year 12 students
14 July 2015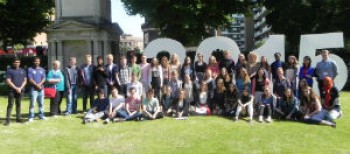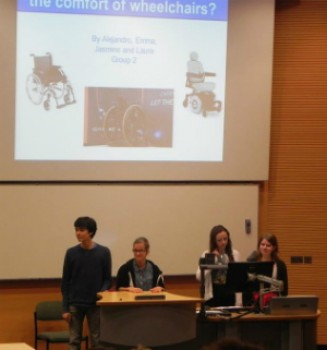 The first Bioengineering Headstart course took place in SEMS last week.

The students, aged 17, came from as far as Madrid and stayed the week in student accommodation. From over 1000 applications, 40 high achieving students were chosen to attend this Queen Mary course.

Prof Martin Knight, Dr Alvaro Mata and Dr Hazel Screen delivered three first year standard lectures for the students on topics such as cartilage, nano-medicine and imaging. Quite a few people were affected by Martin's live cartilage dissection on a very hot day, in a very hot lecture theatre!

The students took part in three activities which had a Bioengineering focus. Students were challenged with designing and testing a mechanical heart valve, they analysed their gait to examine the effects of bare foot running and also investigate the effects of different dental fillings using Finite Element Analysis software.

A trip to industry was supported by MatOrtho where the students found out more about orthopedic implants. This helped a few of the students with their research tasks! Research tasks were set at the beginning of the week and ended with the students presenting their findings in front of an academic judging panel where £140 in Amazon vouchers was up for grabs.

This was a fantastic week which saw a very bright group of students fully engaged in Bioengineering. All they need now is to focus on their A-Level results!

This course was ran in partnership with The Engineering Development Trust (EDT). For more information, please see their website.
Updated by: Corinne Hanlon