News
Congratulations to Dr Nimra Jalali
23 April 2015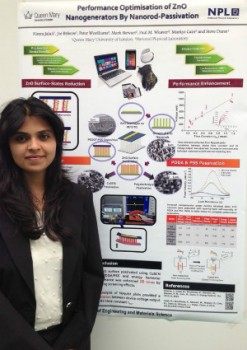 Nimra Jalali successfully defended her PhD thesis during her viva voce exam on Friday 17th April.

Nimra's project was focused on developing the fundamental understanding of kinetic to electrical energy harvesting devices based on ZnO nanostructures. During her project she worked extensively with Markys Cain's team at NPL and produced 6 collaborative papers and presented her work at a number of conferences, winning prizes along the way. Her main achievement was to develop an understanding as to the influence of screening of carriers at the interface of the semi-conductor junction and relate this to power output.

Nimra has just taken up the post of research engineer at Altro ltd, and we wish her all the best for her career.
Updated by: Corinne Hanlon