News
Materials Science Society scoops 'Most Improved' at society awards
8 April 2015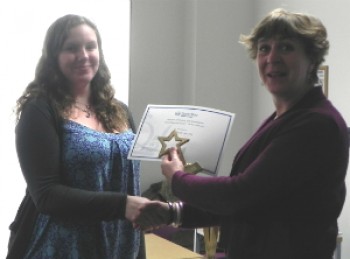 Eleanor Roake accepts the prize from Dean for Taught Programmes in Science and Engineering, Professor Julia Shelton
The second annual Science and Engineering Academic Society Awards were held on Wednesday 1st April in order to celebrate the outstanding work and achievements made over the past year.

Within SEMS, MatSoc were awarded the prize for 'Most Improved Society' for their increased membership despite lower intake numbers, as well as their trips to the Advanced Engineering Expo, The Great British BioScience Festival and their work on the SEMS Industrial Liaison Forum. They were also were nominated for the Collaboration Award based on their work in conjunction with the Institute of Materials, Minerals and Mining and their achievements in securing funding and guest places at the Materials World App Launch.

In addition, the Engineering Society must be commended for their nomination for Best Themed Event for 'Project Drone'. Using a strict budget, and designing and building their own components, the team are building a hexacopter. They are being assisted by Robotics Lecturer Dr Hassan and are using previous graduates as consultants.

Well done to both societies which are building the student community within QMUL and are adding to the student experience of many others.
Updated by: Corinne Hanlon