News
Visit from Nobel Prize-winner boosts profile of QMUL's Institute of Bioengineering
31 March 2015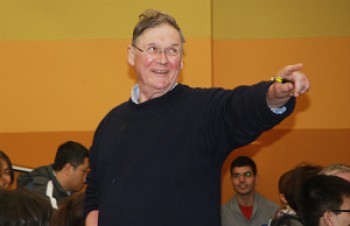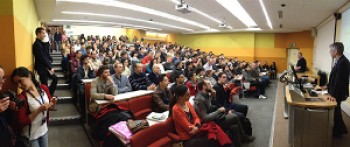 As part of the Institute of Bioengineering Seminar Series and in collaboration with the Life Sciences Initiative, QMUL hosted a visit from Professor Tim Hunt, Nobel Prize-winner and Emeritus Group Leader at the London Research Institute, on Wednesday 18 March.

Professor Hunt received the Nobel Prize in Physiology or Medicine in 2001 for his work on regulators of the cell cycle. Cell division is a remarkable process that needs to be perfectly regulated throughout our lifetime. It involves both important biochemical events, resulting in the trigger of the division cycle, and mechanical events that contribute to the partitioning of chromosomes into two daughter cells. This is bioengineering pushed to its limits!

Professor Hunt gave an inspiring talk on the molecules and pathways controlling cell cycle, and a fascinating account of the history of these discoveries. No doubt, this was particularly motivating and stimulating to the crowd of students, researchers and staff who packed the Fogg Lecture Theatre at the Mile End campus on Wednesday afternoon.

Overall, the day was a significant boost for the visibility of the Institute of Bioengineering and a hugely inspirational event for its members. The organisers want to again thank Professor Hunt for taking time to share some of his enthusiasm for science with our community at Queen Mary.
Updated by: Corinne Hanlon