News
Over Fifty Alumni Attend most Successful ILF to date!
16 March 2015
SEMS students had a perfect opportunity to Network with potential employers.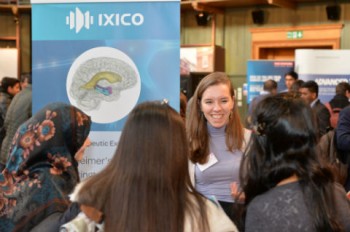 SEMS alumni shared their experience in industry with current students.
The SEMS Alumni focused Industrial Liaison Forum was held on Wednesday 4th March. This is the third consecutive year that the spring ILF has been geared towards inviting SEMS alumni back to QMUL to speak to our students and to reconnect with old classmates and our staff. This was without doubt our most successful event yet with over fifty alumni attendees as well as fifteen current industrial placement students, sixteen members of the new Industrial Advisory Boards as well as a handful of industrial contacts and project collaborators.

The afternoon panel sessions drew over three hundred current students while the closing networking session attracted over four hundred students who had the opportunity to hear in more detail about the employment opportunities of the over seventy companies represented at the event.

The next Industrial Liaison Forum will be held on 29th October, 2015 focusing on current PhD research projects and furthering our industrial partnerships.