News
SEMS exciting new development: images published
15 March 2015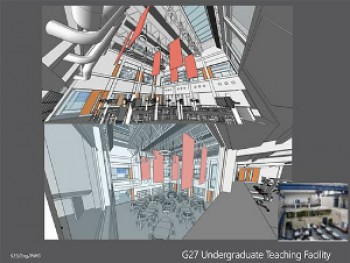 An image showing what G27 will look like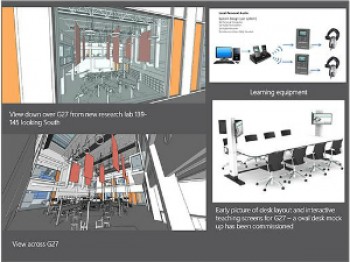 Custom built furniture has been commissioned for the undergraduate learning area
A major £7 million redevelopment to modernise and enhance the building and facilities of the Engineering Building at the Mile End campus starts on Monday 16th March.

The aim of this 11-month scheme is to create an inspirational environment for the School of Engineering and Material Science's students and staff on the West Block, situated on the Godward Square side of the campus.

Originally built in the 1960s, the building will see redevelopment of the School's undergraduate teaching area and surrounding research laboratories.

The Creative Engineering Hub, linking work in SEMS and the School of Electrical Engineering and Computer Science will significantly extend facilities for both postgraduate and undergraduate students and promote the engagement of the students using it with industry. QMUL combines industry involvement and concepts building with our distinctive expertise in engineering and design, aided by our proximity to the heart of the UK's digital economy and creative industries in East London, to link students to greater employability. The new facilities will be ready for students to use in 2016.
Updated by: Corinne Hanlon