News
Well done to the winners at the recent Industrial Liaison Forum
19 March 2015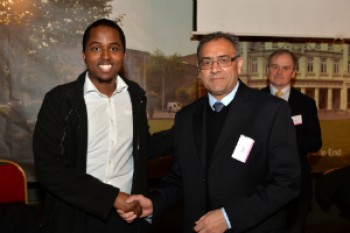 Magan Jimale won the ARTIS prize for his 3rd year project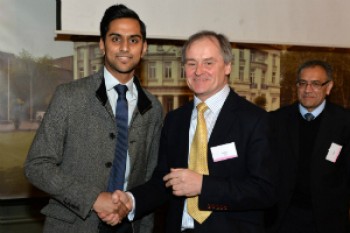 Shyam Patel was the winner of the ApaTech prize for the best research project
Congratulations to the SEMS engineering students who won prizes at the recent Industrial Liaison Forum which was hosted by SEMS.

Shyam Patel, a 3rd year Medical Engineering student, won the ApaTech prize for the best research project at the recent Industrial Affiliates Forum. Shyam's project examines the effect of enzymatic degradation on the local strain fields and mechanical properties in articular cartilage. Shyam is supervised by Prof Martin Knight and his project links with PhD student, Sheetal Imander, who is working on cartilage collagen nanomechanics assessed using small angle x-ray defraction with Dr Himadri Gupta.

3rd year Mechanical Engineering undergraduate student, Magan Jimale, won the ARTIS prize at the recent Industrial Affiliates Forum hosted by the School of Engineering and Materials Science. Megal's project focus of the development of novel flexible pyroresistive materials for self-regulating heating. Magan is supervised by Dr. Emiliano Bilotti and his project links with the PhD students Eric Asare and Yi Liu - partially sponsored by LMK Thermosafe - and the postdoctoral KTP Associate Dr. Antonio Paleo.

The best 4th year Medical Engineering group R&D project went to Yifang Zhang, Nizba Khna, Edwina Wilson, Jillan Hussein, Falaque Ahmed, Aisha Hassen and Vijeai Arunthavarajah. Their project is based on development of testing protocols for a novel vascular graft in collaboration with an industrial sponsor. The project involves extensive experimental prediction of in vivo degradation behaviour and includes mechanical testing, SEM, protein adhesion and computation solid and fluid mechanics modelling.The project is supervised by Prof Martin Knight and Dr Nuria Gavara.
Updated by: Corinne Hanlon