News
Peer Assisted Study Support update
26 January 2015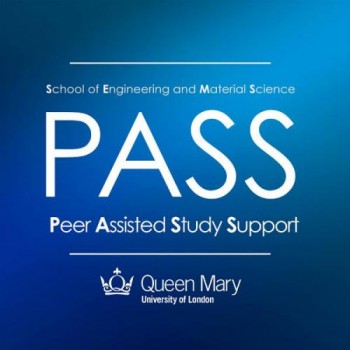 The Peer Assisted Study Support (PASS) scheme at Queen Mary is a course-based mentoring scheme for first years.
Each academic School in the university has a number of students , or mentors, in the latter years of their degree programmes who dedicate their Wednesday and Friday lunchtimes to helping with any coursework or assignments a first year student may be struggling with. PASS gives the opportunity for first years to explore any academic queries with the mentors in a friendly, informal environment and help to settle them in to university life, the department and their studies.
The PASS scheme not only benefits first year students, but also greatly increases the skills-set of the mentors.
This year, 125 new mentors were trained and advisors from Queen Mary's Careers centre participated to encourage students to use their time as PASS mentors as development for future careers. On the training day, Lois Ovie, 3rd year Mechanical Engineering student, helped trained the new mentors, one of who was Kinjal Dave, 3rd year Aerospace Engineering student.
Previous mentors from SEMS include Dinitha Bulathsinghala who graduated with a first class honours in Aerospace Engineering (BEng) in 2014. Soon after starting to study at SEMS, Dinitha realised he wanted to do a PhD and he knew that his time as a PASS mentor would help him achieve this. He said working as a mentor helped improve his knowledge base because he was presented with "questions by my younger peers which I may have overlooked while I was doing the same module in my previous years. It was an ideal platform for me to test myself by explaining difficult concepts to my peers and I believe that this introduction to teaching at peer level will help me during my PhD studies."
The PASS scheme is available for all first year students and takes place each Wednesday and Friday at 1pm. For more information, email Lois on
e.l.ovie@se11.qmul.ac.uk
or Jade on
j.ngchienghin@se12.qmul.ac.uk
.
Updated by: Corinne Hanlon